If you're an adventurer who loves Pokémon, you can't head outside without a themed Pokémon backpack. After all, you might find some cool Pokémon to catch and for that you need to store extra PokéBalls. Or you might find some merchandise that you really want to buy, and a backpack will help you store it.
When we normally think of backpacks, we simply imagine more space as the benefit. But these days, there are so many other features that are included in Pokémon backpacks. For example, you can find laptop pouches, water bottles, zips, and much more. And what makes it even better is that some of them are official merchandise too.
So, let's take a look at the best Pokémon backpack that you can buy in 2023! They come in different shapes, designs, and sizes – so there's something for every fan here, regardless of their age.
The Best Pokémon Backpack for Every Fan
There are several aspects that you should keep in mind when buying a Pokémon backpack. First of all, the design really matters since you're looking for a Pokémon-themed one. And then, the size, quality, and features come in. Fortunately, our list of recommendations has something for everyone.
1. Cusalboy Luminous Pattern Pikachu Backpack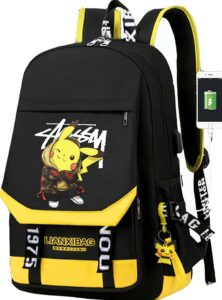 The Cusalboy Pikachu Pokémon Backpack is our favorite option on this list. First of all, its design makes it perfect for every age because it looks sophisticated. Secondly, Pikachu is one of the most recognizable and beloved Pokémon, so having this backpack themed after him is a perfect love-letter to the franchise. And it comes in alternative colors too, so you can find a design that you prefer more.
Then there's the fact that it has a lot of storage, a good build quality, and it even comes with a built-in USB port that supports power banks. So, you can comfortably charge your phone without having to awkwardly stick anything out of your zipper.
You can take it with you on travels, everyday use, and for a casual hike too. And last but not least, it even comes with a tiny and adorable Pichu hanging on the side.
2. Gotta Catch 'Em All Pokemon Backpack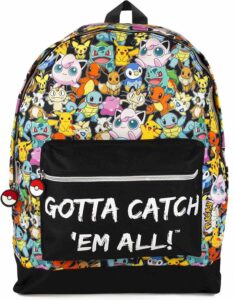 Catching every Pokémon is the dream of every fan. Whether we look at Ash in the Anime or play Pokémon games ourselves – this iconic catchphrase always comes up. And it's become so symbolic that even people who don't like the series still use it as a reference for things.
The Gotta Catch 'Em All Backpack has a wonderful design that shows almost every popular Pokemon in beautiful artwork. And in the middle, the iconic catchphrase can be seen too. It has a decent amount of space, yet its size is not uncomfortable to wear at all. And it's officially licensed, with the trademark and everything – so you can consider it merchandise.
It's the perfect way to honor the legacy and this Pokémon backpack suits all ages too thanks to its non-specific design.
3. Team Pokemon Kids Backpack for School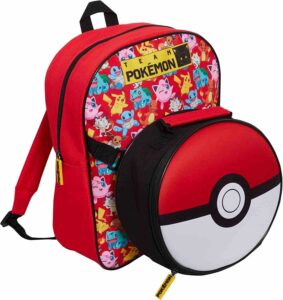 Going to school and highschool is an important part of our lives. And like any experience in life, you shouldn't go there without some style.
The Team Pokemon backpack perfectly captures the joy of the Pokemon world for younger fans. It comes with a lot of space in the back and a cool design with tons of Pokemon spread around. In the middle, we have extra room for things like pencils and diaries – which looks like a giant PokéBall.
The ball is detachable, so you can remove it to properly manage everything whenever you want. And you can get rid of it in general too when you don't need the extra space, like when going to a hike or event. This easily makes it one of the most customizable Pokemon backpacks, which is always a great benefit to have.
Despite the fact that this Pokemon backpack is for younger fans, its design is just as authentic and stylish as you'd expect. So, give this to a Pokemon fan right away to make their entire year!
4. Mojo Black Poke Ball Pokemon Backpack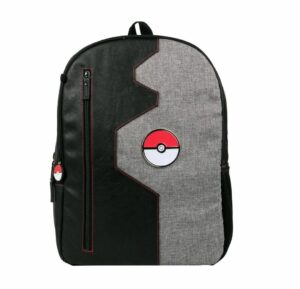 If you're looking for a proper, adult Pokémon backpack – then this one is the perfect option for you. Its design has a very sophisticated mixture of black and gray, while you can see a simple Pokéball carefully planted in the middle. It's incredibly spacious, and has an extra opening for a laptop too. So, whether you like to write outside or go to an office, this backpack will be perfect for you.
It's built with high-quality material, so it's very comfortable to wear. Traveling, working, hiking, or even visiting university in the Mojo Black backpack is a great idea. It's the perfect way of showing the world your appreciation for Pokemon without being flashy in any way.
And the zipper even includes a tiny Pokéball hanging onto it, which is a great extra touch. While many of our suggestions include bags that are for all ages – this is the only adults-only design.
5. KLZO Anime Pokemon Backpack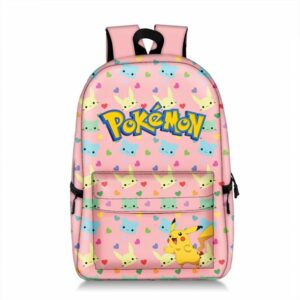 Now for something on the cute side, we have this pink Pokemon backpack from KLZO. It's fully printed, with simple faces of adorable Pokemon spread all over it. And on the bottom, we have a joyful Pikachu too, who is the mascot of the franchise.
The back is durable, large, and very spacious – so you can take it with you anyplace that you want. Thanks to its soft yet sturdy design, it's very comfortable to wear too. Appreciating cuteness has no age, so you'll be delighted to know that this back is perfect for everyone,
So, if you love Pokemon and want a cute backpack for your adventures – this is what you need.
This is it for our recommendations of the best Pokemon backpacks that you can buy in 2023. We hope that you found the guide useful and picked a backpack that perfectly suits your preferences. Whether it's a serious design, something cute, or a backpack that prioritizes features – you deserve the absolute best.
Keep in mind that not all of these Pokemon backpacks are available on the same site. Thus, you'll have to look around for them a bit because they often sell out due to how popular the franchise is. But the effort is worth the reward!
While you're still here, check also: