It's undeniable that Bethesda makes very entertaining games and they usually offer hundreds of hours' worth of content. Whether you're playing Skyrim or a Fallout game, there is always a lot that you can do thanks to the fact that they're full-fledged RPGs.
However, the base game that Bethesda releases in any case is always just the beginning. One of the biggest reasons behind the success of their games is the modding community. Not only do they add a lot of new content to games like Fallout 4, but they even revamp the games entirely.
You will find fixes for the technical problems of Fallout 4 in the form of mods and they're more useful than official patches. Then we have quality of life changes, new features, new maps, and even ridiculous things like Shrek as mods for the game.
Irrespective of whether you've finished the main game yet or not – we know that you want the answer to 'how to mod Fallout 4'. There is so much variety in the mods that you can download, it's always a good idea to know how you can do it.
How to Mod Fallout 4 on PC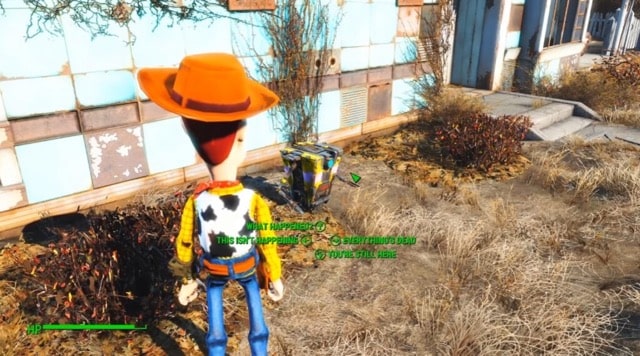 The true home for Fallout 4 mods is the PC platform, thanks to the amazing customization and freedom that it offers. There is a ridiculously large number of mods available on PC and you're about to learn how to mod Fallout 4 to its true potential.
There are two primary ways of getting mods of Fallout 4, so we'll go over both of them.
How to mod Fallout 4 using Bethesda.net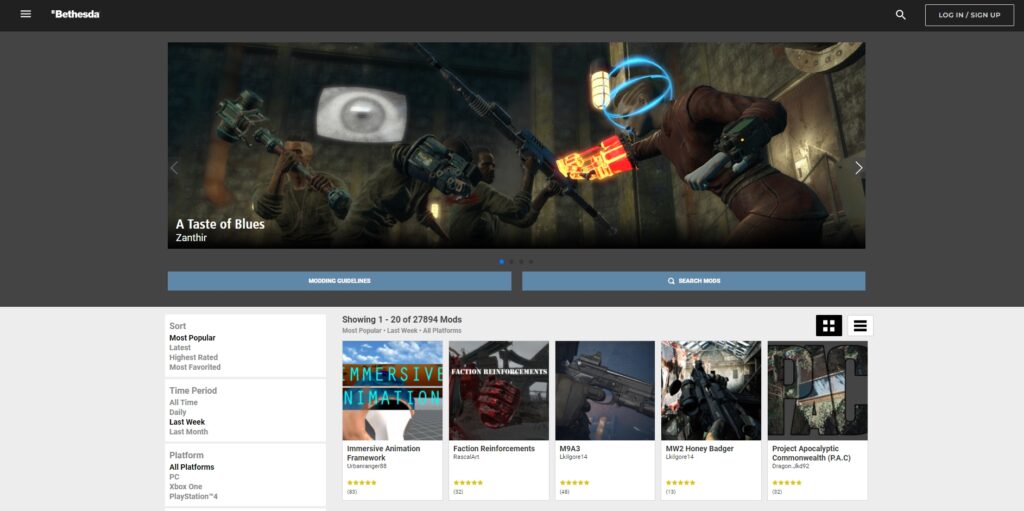 Here is the first method and it's the quickest one too. Bethesda's official website contains many mods that you can use in the game.
All that you need to do is:
Go to the mods section of the Bethesda.net website and download mods
Install the mods to the root directory
This process is just as fast as the console one. However, you can still use a Mod Manager for the mods that you download from Bethesda.net too for a safer experience. And for our next method – this is a crucial step.
How to mod Fallout 4 using Nexus Mods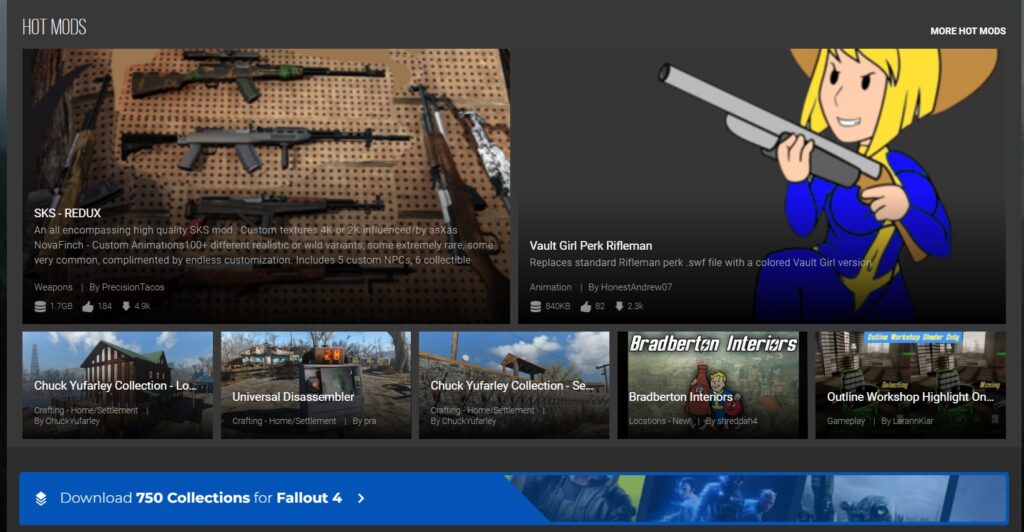 Though some other websites exist too, Nexus Mods is usually the go-to place for gamers because it's safe and popular. Nexus Mods also has a far bigger library of mods for Fallout 4 than the official Bethesda website – so it's a great idea for everyone to learn this method too. Here are the steps:
Download a Mod Manager that supports Fallout 4. We recommend Mod Organizer 2 for its popularity and usefulness. But you can use Vortex too, which is the official Nexus Mods variant.
Head over to Nexus Mods and visit their Fallout 4 page
Find the mods that you need, then click on the "Manual" download button. But if you're using Vortex, there's a specific button for downloading directly into it too.

From here on, all you need to do is to open your Mod Manager and double click on any mod that you downloaded. This will initiate an install.
Once the installation is complete, just launch Fallout 4 from inside the mod manager. Make sure to launch from inside the manager, not from the desktop icon!
And we're all done. You now know how to mod and will have all the changes that you want.
Can you mod Fallout 4 on PlayStation 4?
Yes, you can mod the game on the PS4 console. This wasn't available from the beginning, but Bethesda has finally added the ability to download mods on consoles for the game.
How to mod Fallout 4 on PlayStation 4?
You just need to follow a few simple steps to download the game mods on your PS4. Here is what you need to do:
Download every update for Fallout 4 on your console. The game is still playable without doing this, but then you can't use mods
Create a Besthesda.net account and log in. This will give you access to the mods section of the game.
Open the "Mod" section from the Main Menu screen of your game. Now, you can see, download, and install mods in Fallout 4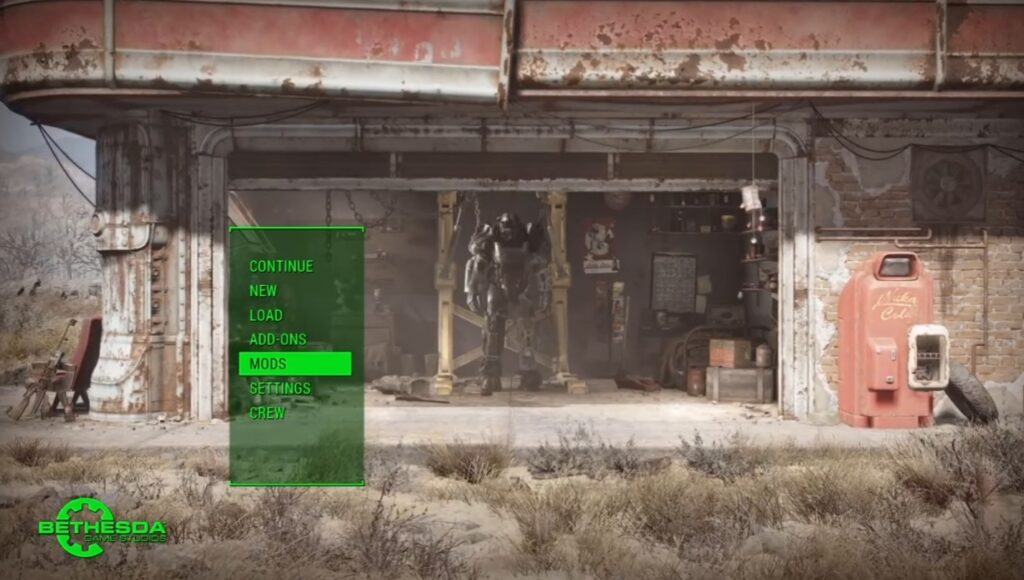 Can you mod Fallout 4 on Xbox One?
Yes, you can mod the game on the Xbox One. Though consoles couldn't support mods in the past, Bethesda finally changed this with the release of the fourth mainline game in the series.
How to mod Fallout 4 on Xbox One?
The process of modding on Xbox One is very easy. Here are the simple steps:
Download every update for Fallout 4. Though you can play the game without doing that, you will need the update if you want to mod the game
Create a Bethesda.net account and log into it, since it connects you to the community that contains the mods
Once you're ready, you will see the "Mod" section in your main menu. From here, you can see every mod and download those that you want.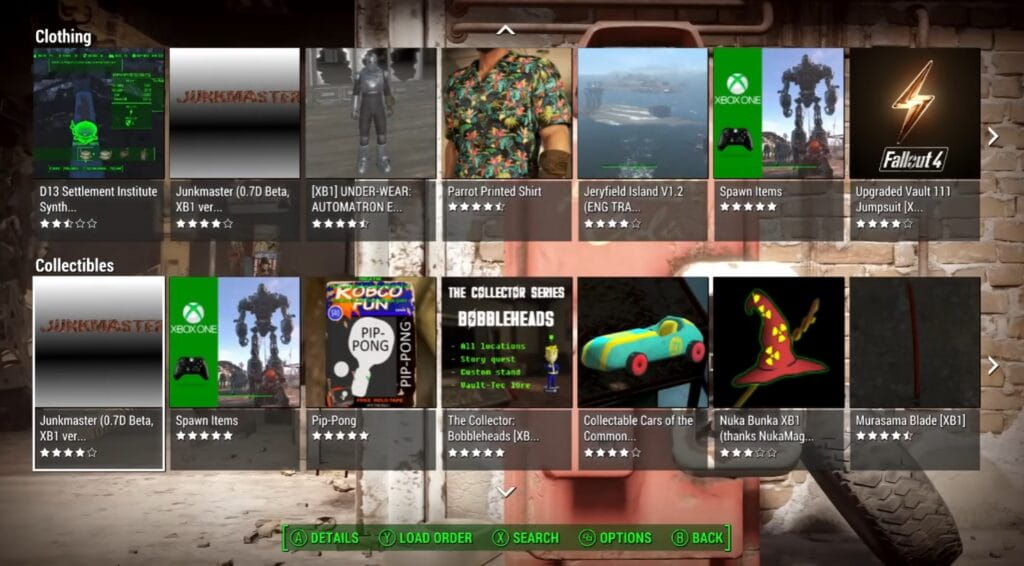 Can you mod Fallout 4 on the PS5 and Xbox Series X?
Yes, this game is playable on the PS5 and Xbox Series X|S thanks to backwards compatibility. And thus, you can install mods on both of these platforms too. Fortunately, you don't need to learn how to mod the game on these two platforms – because the method remains unchanged.
So, if you wish to play mods on these consoles, you can start right away. And an interesting thing here is that these consoles have a lot of power, so you can download graphics mods without worrying too.
Conclusion
With that, we've explained how to mod this interesting game on every single platform. On the PC, you can download them through two different sources. And on the PlayStation 4 and Xbox One – you can download the mods from the in-game menu that appears after you install the latest updates.
Check also: