Playing video games on a PC is an amazing experience, especially if it has high-end specs. However, some of us are always on the move and cannot stay in one room consistency. So, the solution for this is to have a gaming laptop, which can run everything perfectly, but you can take it anywhere you want.
One of the best brands in the market for gaming laptops is currently Samsung, as they are often praised for their quality, durability, and mobility. If you're looking for a great gaming laptop, then you can't go wrong with this brand.
So, without wasting any time, let's take a look at the best Samsung gaming laptop that you can buy in 2022!
How to choose the best gaming laptops?
There are many factors that make a gaming laptop a good choice for a consumer. The first things to pay attention to are the screen and mobility since everyone has a different need. Laptops with a larger screen are heavier, so you have to look at how much you can comfortably carry.
Then we have to look at the overall specs because that's what will be running your games. The graphics card, processor, ram, and hard drive have to be adequate for the latest games to run smoothly.
One very important thing to note here is that Samsung does not have many 'gaming' laptops in their catalogue. So, most of the times you will be buying a laptop meant for working and the gaming part of things is more of an extra advantage. Don't worry, we'll explain this properly for all of our entries so that you're not misled into buying the wrong machine for your gaming needs.
With that being said, these are the things that you need to look at when buying the best gaming laptop – and all of our recommendations will point you to the right direction!
The Best Samsung Gaming Laptop in 2022
1. Galaxy Book Odyssey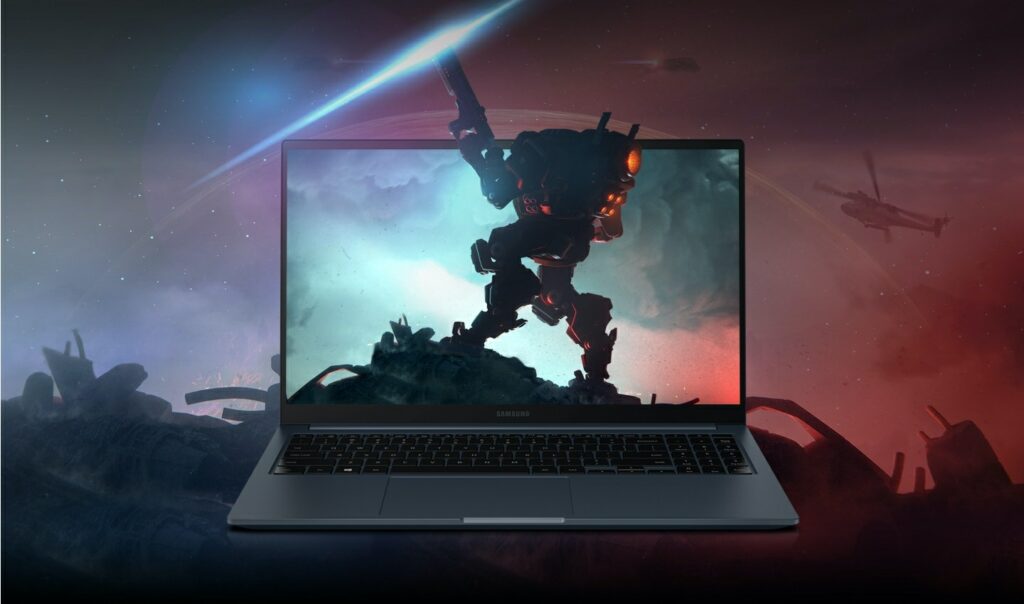 Samsung does not have too many laptops that include the word 'gaming' next to them. But exceptions do exist, and the Galaxy Book Odyssey is on top of that list.
The Samsung Book Odyssey is packed with an 11th gen Intel Core i7. And an amazing Nvidia RTX 3050ti Max-Q graphics card. As if that wasn't enough, it has a full-HD 15.6" screen that features an ultra-wide resolution. And comes with 8GB, 16GB, and 32GB RAM variations that are bundled with a lightning-fast SSD.
There is no modern-day video game that this laptop cannot run smoothly thanks to its high-end specifications. And it's a great laptop for everyday working needs too, since it supports Windows 11. And it has a battery that lasts pretty long. So, you can run everything like Cyberpunk 2077, God of War, Call of Duty: Warzone, and Fortnite on high graphics settings.
Though the other laptops on this list are good too, the Galaxy Book Odyssey is the best Samsung gaming laptop.
---
2. Galaxy Book2 Pro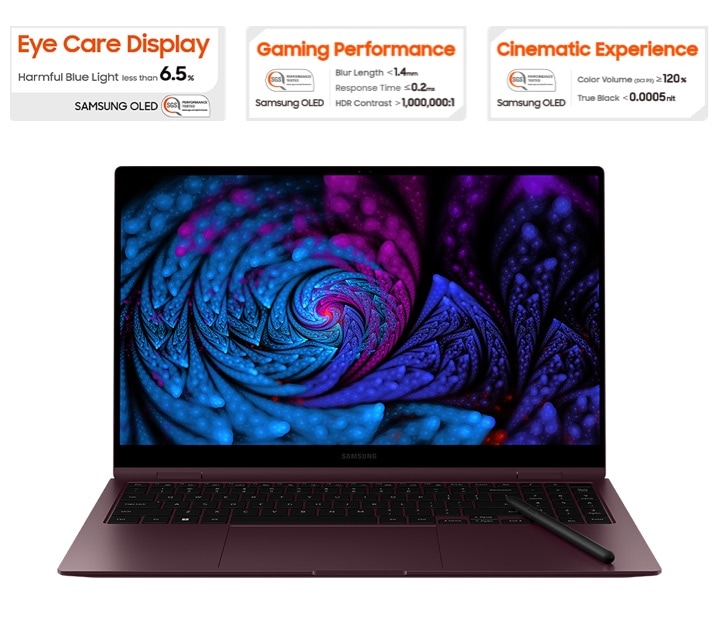 After taking a look at all of the latest laptops, the Galaxy Book2 Pro is definitely the second best Samsung gaming laptop. First of all, it has a lightning-fast 12th Gen Intel i7 processor and a gorgeous AMOLED screen that delivers crisp and colorful visuals. Then, we have the 32GB RAM with 1TB SSD and we have ourselves a very, very good machine that is excellent for every task – not just gaming.
Though it's second best for a reason, and that is the Intel Arc™ A350M Graphics card. It runs everything in a very playable state, such as Cyberpunk 2077, Spider-Man Remastered, RDR2, GTAV, Call of Duty: Warzone, Elden Ring, and Valorant. So, your gaming needs will be covered while you can use it for demanding work too, such as video editing.
There is not really a game that it doesn't at least run playable. And some of the older games can even run on higher settings. The only catch is that it's just not as good a GPU as the Galaxy Book Odyssey's Nvidia 3050ti, and only the most expensive version of the laptop (up to $1600) has the A350M GPU and the 32GB RAM.
So, choose wisely between the Galaxy Book Odyssey and the Galaxy Book2 Pro. Because they're both contenders for the best Samsung gaming laptop. But the price point and overall specs are very divisive, and it comes down to the buyer's preferences as to what suits them better.
---
3. Galaxy Book Pro 360
Galaxy Book Pro 360 is a very powerful laptop that comes with a Super AMOLED screen, works with pens, and you can use it in multiple positions. If you love watching movies or create art, the screen alone is a great selling point. Because it has unparalleled visual quality.
Then we have the RAM, which is 16GB, and you get an 11th Gen Core i7 which is nothing short of powerhouse. The storage starts low but fortunately goes up to 1TB SSD, so you can store a lot of stuff and video games on it too.
As for the GPU, we have an Intel Iris Xe which is surprisingly pretty good for a laptop card. Especially since it's not primarily meant for gaming. Games like Call of Duty: Warzone, Forza Horizon 4, PUBG, Fortnite, Resident Evil 3, and Spider-Man Remastered run on a very playable state. Though some others like Cyberpunk 2077 and Horizon Zero Dawn will not run that well, partially due to poor optimization.
So, it's one of the best Samsung gaming laptop options for those who want both work and gaming in one package.
---
4. Galaxy Book Flex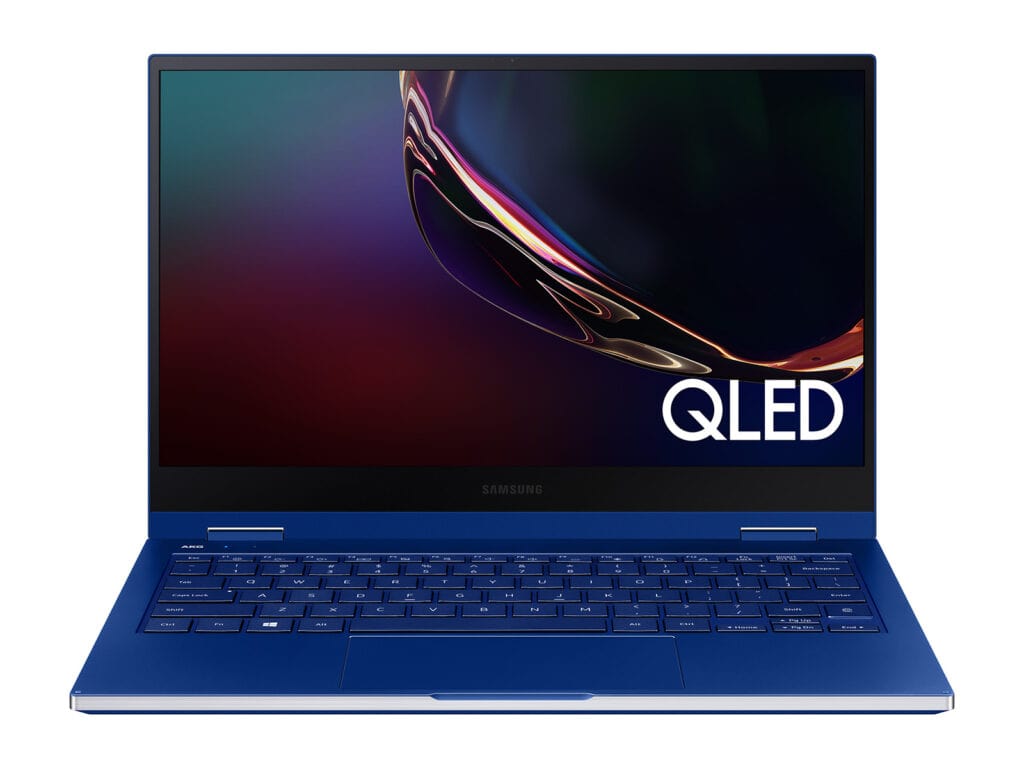 The thing with Samsung laptops that can also run games is that the focus is primarily on work-related uses. So, Galaxy Book Flex is the next best option. Although you need to know a thing or two about its capabilities.
It comes with a 10th gen Intel i7 processor, 12GB of RAM bundled with a quick 512GB SSD, and has a crisp QLED display that delivers sharp picture quality. So far so good, but here's the kicker: it has an Intel Iris Plus GPU.
Now, this GPU can run many modern games just fine. Fortnite, Valorant, Rainbow Six Siege, Grand Theft Auto V, RDR2, League of Legends, The Witcher 3, and Rocket League are very much playable. On the other hand, some single player games like Horizon Zero Dawn and Mass Effect: Legendary Edition have less-than-favorable performances.
So, it really comes down to how important gaming is for you. If you want to run all the latest things, you can get the Galaxy Book Odyssey. But if you want something better for work then this might be the best Samsung gaming laptop for you. Because it comes with a large battery life, quick charging, and a Flex pen that you can take notes and draw things with.
---
5. Galaxy Book Go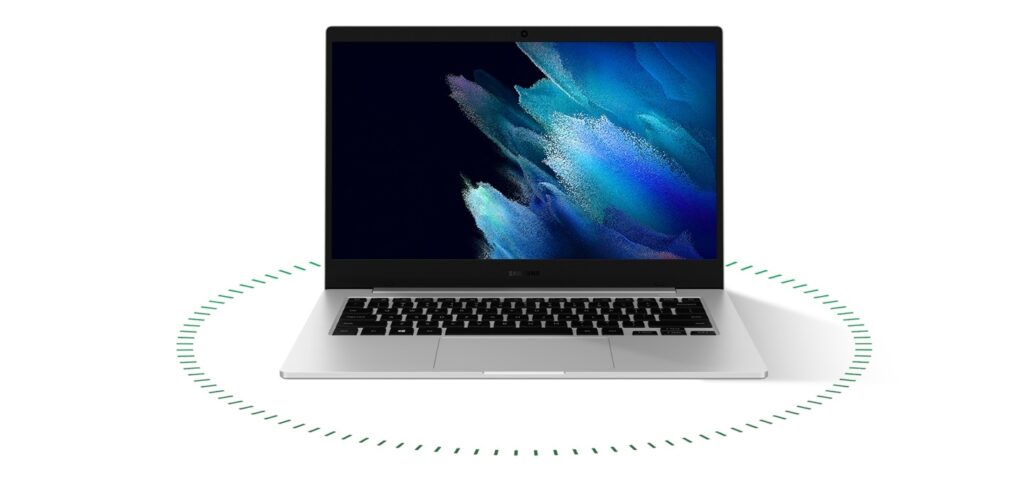 Before we get started with everything else, there is one major thing that makes the Galaxy Book Go a great choice – its price. Unlike other laptops on the list that cost over $800, the Galaxy Book Go starts at only $349.99 dollars.
Now, for the specs. It supports Windows 11, has a 14" FHD screen that looks pretty good. And it comes with a Qualcomm Snapdragon ™ 8cx Gen 2 processor (5G model). Then we have 8GB RAM and a 256GB SSD. Which is far from ideal but nothing that an external HDD can't solve.
So far, the specs are pretty good, so let's get right down to the gaming part of things. It has a Qualcomm Adreno Graphics card, which is pretty decent for the price range. If you wish to play games like Grand Theft Auto V, Fortnite, and Rocket League – you'll have a playable experience. And another great thing about this laptop is that it's pretty good with emulation. Such as the PCSX2, PPSSPP, and the Nintendo Switch emulator (Mario Kart tested).
The only downside is that we certainly can't promise games like Cyberpunk 2077, Elden Ring, and Spider-Man Remastered. So, this is not the best Samsung gaming laptop if you wish to play new games specifically. But for the price point and mobility, this is a great laptop if you don't mind playing older single-player games. And of course, online games like Fortnite never go out of fashion.
Final Words
That's it for our list of the best Samsung gaming laptop! As you've noticed, only the first two choices are truly 'gaming' laptops from Samsung's current lineup. The rest are more like work laptops that are also useful for gaming, though far from being the main point of the product.
So, if you're someone who needs a laptop for working needs and casual gaming, then consider the last 3 options. Especially the Galaxy Book Go due to its attractive price. However, if you're a gamer and need a laptop for that, then the first two options are the best path for the best Samsung gaming laptop.
One way or another, we hope you found this guide useful. And are already on your way to decide which Samsung gaming laptop will be your choice.
Check also: