What do you do when a bunch of your friends are in one place, and you don't want to use electronics? You bring out the board games, of course. Though board games generally have their own themes like Monopoly and D&D, there are several properties that have been adapted into a tabletop game.
Since anime is so incredibly popular, it was only a matter of time before board games started adapting the most popular Japanese properties too. And thus, anime board games came into being, with shows like Pokémon. Naruto, and Attack on Titan being adapted into card and tabletop games.
Let's take a look at the best anime board games that you can play in 2022!
Best Anime Board Games
The point of board games is that you can play them with your friends without any technology. Tabletop games, card decks, and literal boards are all a part of this category, and they require a decent number of rules for each player to follow.
What makes anime board games good is if they're fun and durable in build quality – so let's take a look at our list with those requirements in mind.
1. Death Note: Confrontation
Ever wanted to experience what it's like to be the world's greatest detective against the world's greatest criminal? The Death Note: Confrontation is a unique game in which two players assume the role of L and Kira, respectively. Then, the goal of Kira is to kill all of his targets, while the goal of L is to figure out who the murderer is by using clues before it's too late.
If Kira kills everyone before L deduces the identity, the Kira player wins. On the other hand, if the L player deduces the identity fair and square, then L wins instead. And as you'd expect, the game comes with the iconic Death Note notebook for you to play with too!
It's easily one of the most creative anime board games and you can't ever go wrong with Death Note.
2. Attack on Titan: The Last Stand
Attack on Titan is currently one of the most popular series in anime fans. And it hasn't lost its following despite the controversial manga ending. As you'd expect, the Attack on Titan board game is very creative and pits the survey corps against fierce titans.
The goal of both sides is to eliminate the other. And aside from cards, die, and buildings – The Last Stand board game comes with a Titan figurine too. It's intense, fun, and perfectly captures the theme of Attack on Titan in a board game.
If you're a fan of the show, this is one of the best anime board games that you need to keep an eye on. And friends who might not be interested in the show will still enjoy the game too.
3. Cowboy Bebop: Space Serenade
Cowboy Bebop is an anime that deserves nothing but the best. A simple card or tabletop game would be doing injustice because of the sci-fi goodness that the series has to offer. Fortunately, Cowboy Bebop: Space Serenade does a great job at capturing the essence of the world of the anime and lets the players become a member of the Bebop crew.
Four players can play the game, which puts them in the roles of Spike, Jet, Ed, and Faye and the goal is to seek out bounties across the galaxy for reputation and money. The game follows a deck format but has figurines and other items to spice things up a bit.
At the end, the group has to capture Vicious in a final fight by working together, which is a fun spin on working against each other. And in the end, the player with the highest score wins and leaves his rival bounty hunters in the dirt.
4. Pokémon Master Trainer
Pokémon has hundreds of cards that players can collect and then play with as part of the "trading card game" experience. However, the worldwide phenomena has a specific board game too called the Pokémon Master Trainer. Which allows players to travel across Kanto to win the Indigo League Championship.
A total of six players can play the game and they can build their own team of unique Pokémon to take on the world. There are tons of rules, cool cards to use, and other buffs that can help you out in battle. And you can fight each other too if you run into each other!
It's one of the best anime board games that you can play. But it's a bit harder to find it these days since it was originally released a long time ago. Though fans did make slightly modern versions of it over the years which you can purchase from them directly or print yourself easily.
5. Naruto Shippuden: The Board Game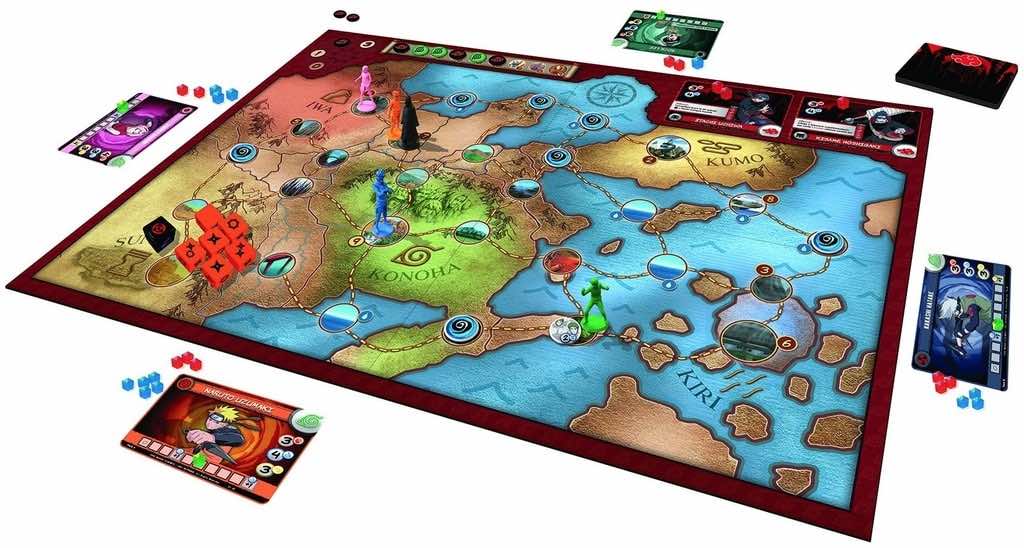 When it comes to anime board games, no list would be complete that does not include one of the big three. Naruto Shippuden: The Board Game allows up to six players to assume the roles of iconic characters such as Naruto, Kakashi, Sakura, Shikamaru, Sai, and Rock Lee. And the goal of this team is to stop Akatsuki from succeeding in his mission of reviving the Tailed Beasts.
The board features a large map, figurines, and there are many surprises, twists, and turns at every step. So, be careful and stop Akatsuki once and for all before it's too late!
6. Yu-Gi-Oh! Trading Card Game
Yu-Gi-Oh! is one of the few properties that are in fact a card game even in the anime itself, rather than just in merchandise. The iconic anime shaped our childhoods and showed us how the Yu-Gi-Oh! cards are filled with spirits of beasts and limitless power that creates intense battles between the protagonists and bad guys.
Fortunately, the Yu-Gi-Oh! Trading Card Game is just as entertaining of a board game as the show is. Players get a set of cards each and then they must compete against each other by casting spells, activating their trap cards, and calculating their respective power levels. It's one of the few board games that even has championship tournaments in real life!
7. One Piece: Water 7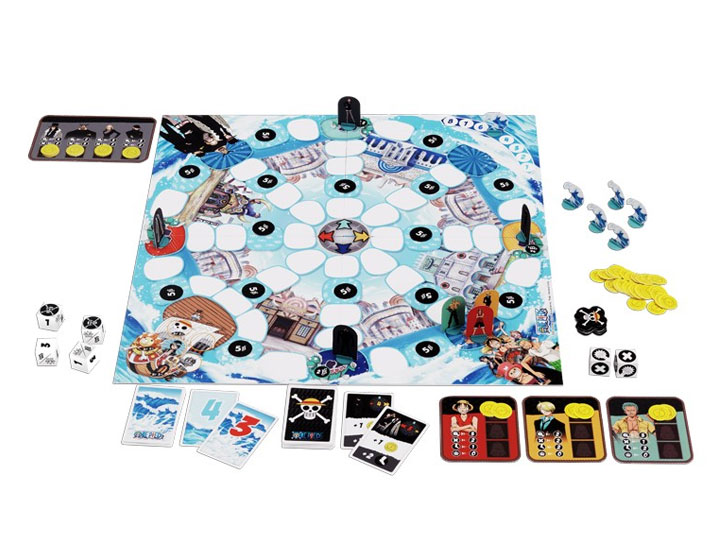 The One Piece is real with the One Piece: Water 7 board game, which has easy-to-follow instructions and allows up to four players to sail the seas at a time.
The players are tasked with working together to save a kidnapped Robin and they have to repair their ship at the same time. If the players are unable to repair their ships properly and complete the task on time, Aqua Laguna waves will overtake the board and drown them. However, if everything goes as planned, the player with the most points wins. While everyone else gets to see another day too.
It's a very nice light-hearted One Piece game that does not try to be too ambitious. And its simplicity makes it a great choice for a relaxing gaming session.
8. Tokyo Ghoul: Bloody Masquerade
The reactions to the entirety of Tokyo Ghoul as an anime may be divided. But no one can deny that it's a very fun show to watch. The tabletop game perfectly captures the atmosphere of the show. And it allows up to 8 players to play, with 15 characters to choose from.
The players assume the role of ghouls, investigators, and humans. And then their goals are to simultaneously hunt each other down while also insuring their survival. It's all about being great at bluffing and deducing your opponent's moves, which makes for a very intense experience that will remind you of the show's greatest moments.
9. My Hero Academia: Plus Ultra!
Whether you're a fan of MHA or not, the My Hero Academia: Plus Ultra! Is a very fun board game that can be played with up to four players. Each player gets to control a different student from Class 1-A. And the primary goal is to defeat any villains that stand in your way.
However, things are not that simple as you have to recruit allies along the way and earn hero points. Which will determine the victory of the best hero of the game session. There are tons of cards, a main board to play on, and character portraits that you can place to signify your position.
It's a fun game for everyone and a treat for fans of the show. Which makes it one of the best anime board games without a doubt.
These are our picks for the best anime board games that you can play in 2022! We hope that you found this guide useful and are already on your way to get the anime board games that appeal to you the most.
Though we did include many popular names, we had to leave out a few honorable mentions like Dragonball Z because they have simple trading cards rather than an actual tabletop experience. One way or another, you can simply buy their cards if interested too.
Check also: