Whether you're a new player or a veteran, knowing where Xur is in Destiny 2 is an important thing every time he's around. After all, he sells some of the best items that you can find in the game, especially exotic ones. Such as weapons, armor, and more.
On top of that, every time Xur shows up, he comes with a new set of items that players can obtain. And this week, he's even got a quest for you to complete that has a very attractive reward.
So, where is Xur? What items is he selling this week and how can you obtain them? Let's take a look at where is Xur in Destiny 2 right now!
Xur's Location in Destiny 2
Xur can be found at the Winding Cove in the EDZ at the moment. He will be there until the end of April 12, so there's plenty of time left to head over and meet Xur. You can find the location in the picture above; he will be somewhere within the red circle.
To be more precise, when you enter the Winding Cove, go towards the rocky cliffs at the far end of the location. You'll find a cave that is next to a platform where you'll find some Fallen. Once you're there, you will easily spot Xur.
What is Xur selling this week in Destiny 2?
Xur is selling over a dozen items right now and they are separated between different categories.
Exotic Gear
In Exotic Gear this week, we have:
Exotic Engram
Crimson – Kinetic Head Cannon
Aeon Swift – Hunter Gauntlets (3 Mobility, 20 Recovery, 6 Discipline, 7 Resilience, 17 Intellect, 10 Strength)
Sunbracers – Warlock Gauntlets (21 Resilience, 8 Discipline, 9 Intellect, 12 Strength, 8 Mobility, 3 Recovery)
Ursa Furiosa –Titan Gauntlets (25 Mobility, 23 Strength, 6 Intellect, 2 Discipline, 2 Recovery, 8 Resilience)
Legendary Weapons
Widow's Bite – Sniper Rifle
Dire Promise – Hand Cannon
Imperial Needle – Combat Bow
Seventh Seraph Saw – Machine Gun
Frozen Orbit – Sniper Rifle
Wolftone Draw – Combat Bow
Ignition Code – Grenade Launcher
Legendary Armor
The Legendary Armor differs a bit for the different classes in the game.
The Armor Sets have the same name, which is Anti-Extinction. But their statistics differ based on who will be using it. Whether you're a Warlock, a Titan, or a Hunter – all three classes can purchase the Anti-Extinction set.
The overall items in the Anti-Extinction Legendary Armor set are:
Gauntlets (Anti-Extinction)
Chest Armor (Anti-Extinction)
Leg Armor (Anti-Extinction)
Helmet (Anti-Extinction)
Only one item is particularly different (aside from statistics) for all of the classes in each set.
For Warlocks, we have the Stella Incognita Bond. For Titans, we have the Stella Incognita Mark. And for Hunters, we have the Stella Incognita Cloak. Although all of them are useful, it comes down to preference at the end of the day since they have different uses.
Exotic Weapons
Dead Man's Tale – Exotic Scout Rifle
This weapon includes Killing Wind, Fitted Stock, Cranial Spike, Hammer-Forged Rifling, and Armor-Piercing Rounds.
Hawkmoon – Exotic Hand Cannon
This weapon includes Paracausal Shot, Heavy Group, Quickdraw, Alloy Magazine, and Chambered Compensator.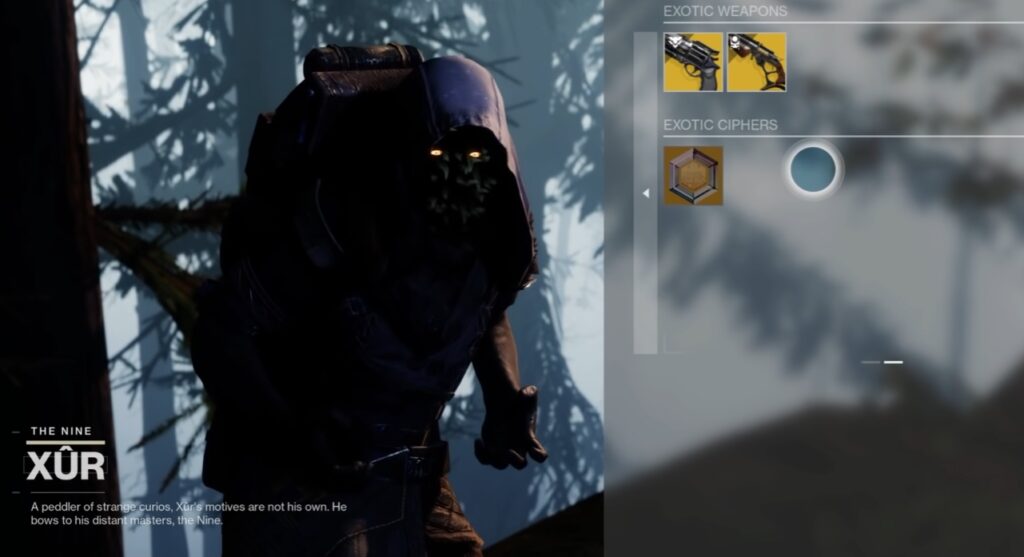 What is the Exotic Cipher Quest?
Players can partake in a quest that Xur's shop has under the 'Exotic Ciphers' section which is right below Exotic Weapons.
In this quest, the player has to complete 21 Strikes. Alternatively, they can also win matches in the Crucible or Gambit modes. Once you have completed your progress, you will be able to earn the Exotic Cipher.
If you're unaware, you can use the Exotic Cipher to buy old Exotics from the Monuments to Lost Light kiosk within the tower.
What should you buy from Xur in Destiny 2?
Now that we have everything else out of the way, let's take a moment to talk about what the highlights of this week's Xur shop are.
Best Exotic Gear:
Ursa Furiosa has incredibly high stats within the Exotic Gear category. It's particularly useful for Titans, but others can make use of it too if they're willing to learn the ropes.
Best Exotic Weapon:
Hawkmoon is the highlight for this week because the Quickdraw perk is considered a fan-favorite within the community. And of course, it's for good reason and can prove to be very useful in PvP.
Best Legendary Weapon:
Imperial Needle is incredibly useful due to its specific loadout of perks. It's a great combination of speed and damage, which is not always easy to find.
Best Legendary Armor:
It's hard to answer this question because it comes down to preference. The game offers many options to players and all of these can be useful in the right hands.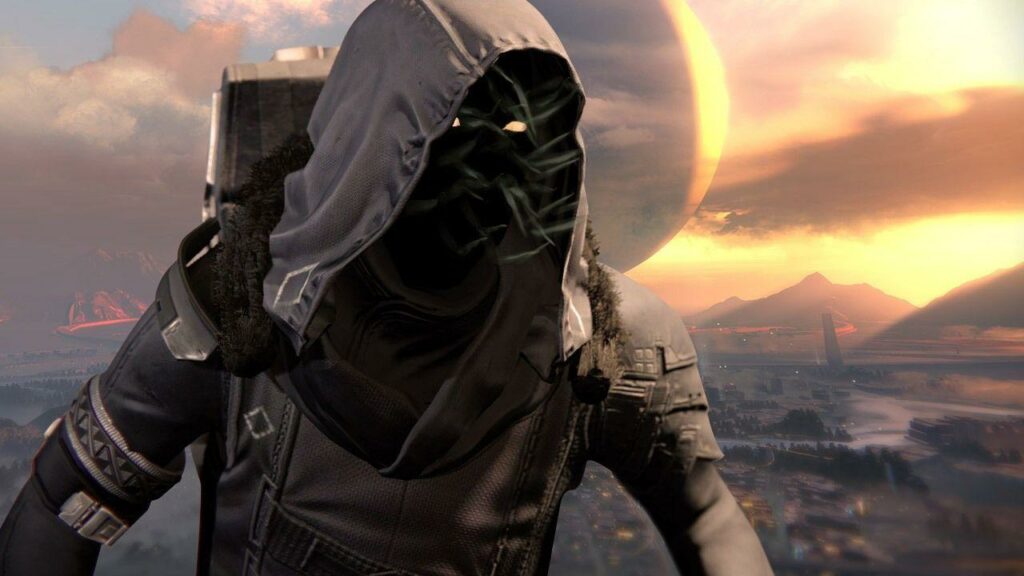 And that's everything that you need to know about this week's haul. Whether it's where is Xur in Destiny 2 that you want to know or what he's selling, we've got you covered. Until his loadout changes for a later week, this is all that you need.