With every passing year, the world is progressively moving towards digital media. Whether it's songs, movies, or video games – we are encouraged to use our internet to purchase them digitally instead of finding a physical release of it. It's especially jarring because there was a time when a laptop with DVD player was very common, but now this piece of tech is simply left out.
Fortunately, for those of us who still prefer the feeling of holding discs in our hands, there are still many options in the laptop world. You can still find a laptop with DVD player capabilities in the market, and don't worry, they are fairly recent releases too. Which means you won't have to worry about running the latest programs or Windows.
So, let's not waste a second. Let's look at the best laptops with a DVD player that you can purchase in 2022 right away!
The Top 5 Best Laptops With A DVD Player
DVD players may not be as relevant as they once were, but there are still many reasons to use for them. First of all, physical PC games still use the DVD format. Then, we have movies that still come in DVDs too since millions still own players for the format.
And even if we don't buy new content on a DVD, we still have hundreds of discs from the past with important data that we might need to extract. Such as old pictures, wedding footage, old games, college projects, and so on.
One last thing to note here is that you don't need a laptop with DVD player specifically to run DVDs. A laptop with a Blu-Ray player can run DVDs too, just like how DVDs can run CDs. Now go over our choices for the best laptop with DVD player.
1. Lenovo Ideapad L340
If you're looking for a gaming laptop with DVD player that packs a punch, the Lenovo Ideapad L340 is what you need. It has a beautiful slim design that is very easy to carry. Which is further complemented by a full HD IPS display of 15.6 inches.
Then we have a 512GB NVMe SSD that provides lightning-fast speed and 8GB DDR4 RAM that takes care of all your memory problems. As for the two very important factors in running video games, the processor is a meaty 9th-gen Intel Core i5 and the GPU is a capable NVIDIA GTX 1650.
With all of these specs combined, you can run most new games, both single-player and online, with decent results and reasonably pretty graphics settings. And of course, all your work-related needs will be fulfilled too thanks to the general power that this laptop holds.
Top it all off with a capable DVD drive that can be used for both reading and burning discs – and we have ourselves a winner. It roughly costs $970 dollars, so it's certainly not a budget option. But if you don't mind getting it refurbished, you might be able to knock a few hundred hours off.
2. Acer 3 A317-52-565S Notebook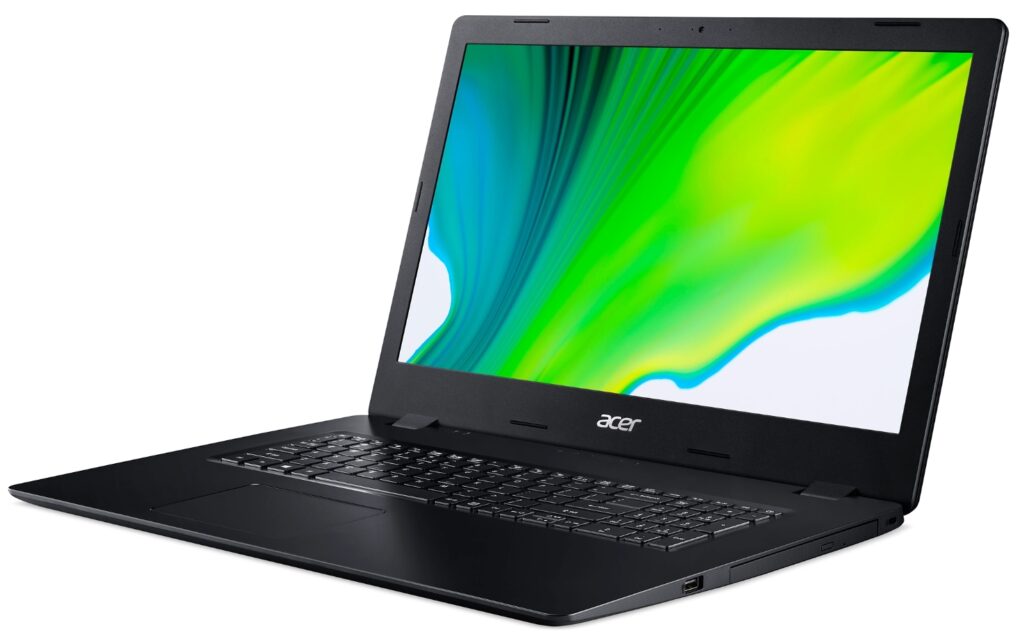 Acer is one of the best-selling brands in the world of laptops. And their Acer Aspire 3 model is amazing both in terms of its reasonable price and as a laptop with DVD player. There are many models of the Acer Aspire 3 Intel and not all of them come with an optical drive. So, we're going to talk about the specs of the one that does include that feature.
It has a beautiful 17.3-inch fully HD IPS display with 8GB DDR4 RAM, a 512GB SSD, and a great 10th-gen Intel Core i5 processor that does an excellent job at complementing the rest of the hardware. The GPU is where we have a bit of a compromise as it has an integrated Intel UHD Graphics chip. Thus, you won't be able to run many games with this laptop.
So, if you're someone who is focused on work and any non-gaming related tasks, this laptop with a great $629.99 price is your go-to option for a modern laptop with DVD player. Plus, it can write them too.
3. Dell Inspiron 17 5770 (5000 Series)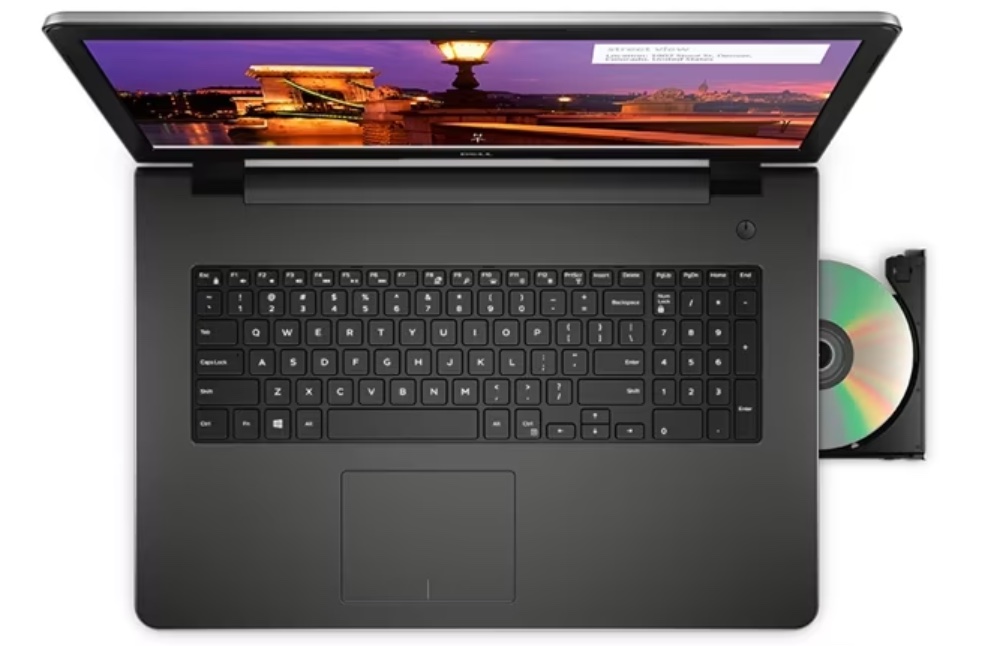 The Dell brand does not need an introduction. And as such it's no surprise that this laptop is over the $1000 dollar price range. Regardless of which variation you go for, as several options do exist.
The most powerful version of the Dell Inspiron 17 5770 includes a full HD 17.3-inch display, an incredibly powerful 8th Gen Intel Core i7 processor and 16GB of RAM. And accompanying all that power is a 256GB SSD for your Windows. Meanwhile a 2TB HDD is available too which you will never experience any storage problems with.
And the graphics card? An AMD Radeon 530 with 4GB VRAM, which means that you can run most modern games without any hiccups. That too on a decent 1080p resolution and reasonably low settings.
So, at its peak, the Dell Ispiron 17 5770 is a powerful gaming laptop that has enough space to hold a dozen modern games. Which is alongside all of your important data too.
For someone who uses discs a lot both for burning and storage purposes, having this much space is always a good idea. And the DVD-RW double-layer drive is amazing too, since it lets you burn all types of discs. The only catch is that the cheaper variations will have less power. But it's still a pretty good laptop with DVD player either way.
4. HP ENVY – 17-bw0706nz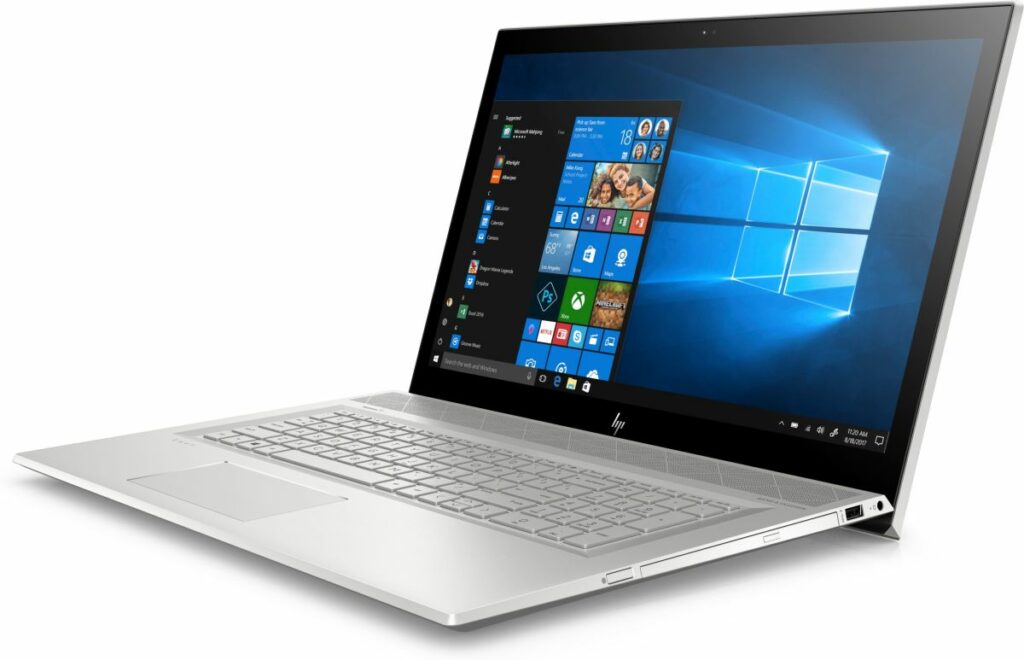 The HP ENVY series is currently one of their most recent ones and it comes with a pretty good DVD-writer if you buy the 17-bw0706nz variant specifically. It's very rare for a laptop with DVD player to still be in stock in most places. But fortunately, we do have this somewhat pricy option on our side.
So, what are we getting?
It has a great 8th-gen Intel Core i5 processor that can go up to 3.4GHz with the use of Intel Turbo Boost Technology. And then we have 8GB DDR4 RAM, a spacious 1TB HDD, and a pretty decent NVIDIA MX150 graphics card with 2GB VRAM.
All of this comes with a gorgeous full-HD IPS display of 17.3 inches. It's a jack-of-all-trades laptop that is perfect as a workstation. And it lets you kill some time with a little bit of gaming too. Having a primary HDD instead of an SSD admittedly feels like a questionable decision at the end of the day. But the processor and RAM are good enough to make you get over the loss.
Lastly, it has a bunch of extra features too. Such as a multi-format SD card reader, an HP Imagepad with multi-gesture support, and a great battery-life of up to 12 hours. The webcam is decent too with HD resolution. And yes, your precious DVD writer that can both read and burn all the discs that you want.
HP is a reputable brand, and this is undoubtedly a great laptop with DVD player for those who like to work on-the-go.
5. HP 17-by3051cl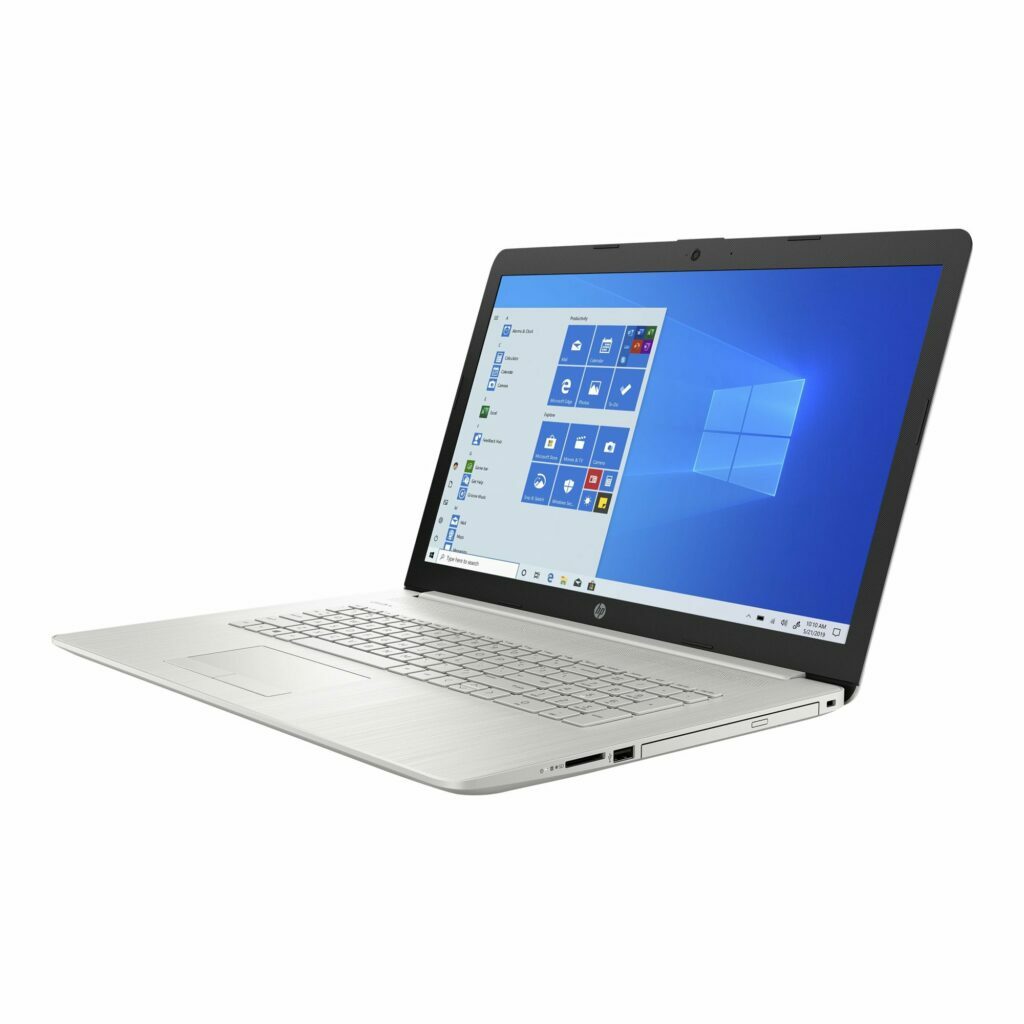 Another option from HP, this laptop with DVD player is not a part of their ENVY line. As such, it has a reasonable price and costs under $728-dollars. Which gets even cheaper if you can find it in good quality but used.
It has a decent 10th-gen Intel Core i5 processor, 8GB DDR4 RAM, and a fast 256GB SSD. The display is 17.3 inches long and has a somewhat HD resolution of 1600×900. Which is good enough for casual movie watching and playing some old video games. Especially since it comes with an integrated Intel UHD graphics card.
It's a pretty standard laptop with a good battery life and a 720p HD webcam. And some other smaller features like a SD card reader are present too. If you use your laptop for light work such as freelancing or writing, then this is a great option for you. Even as just a backup to have lying around at home, it does its job very well. And comes with a great DVD writer that burns and reads discs with ease.
However, keep in mind that this laptop won't do a great job with video games. Not even on low settings, so you'll have to play some older classics. And it won't fare too well with video editing that requires extensive graphical power too. Thus, pay attention to what you need and either pick or skip this laptop with DVD player accordingly.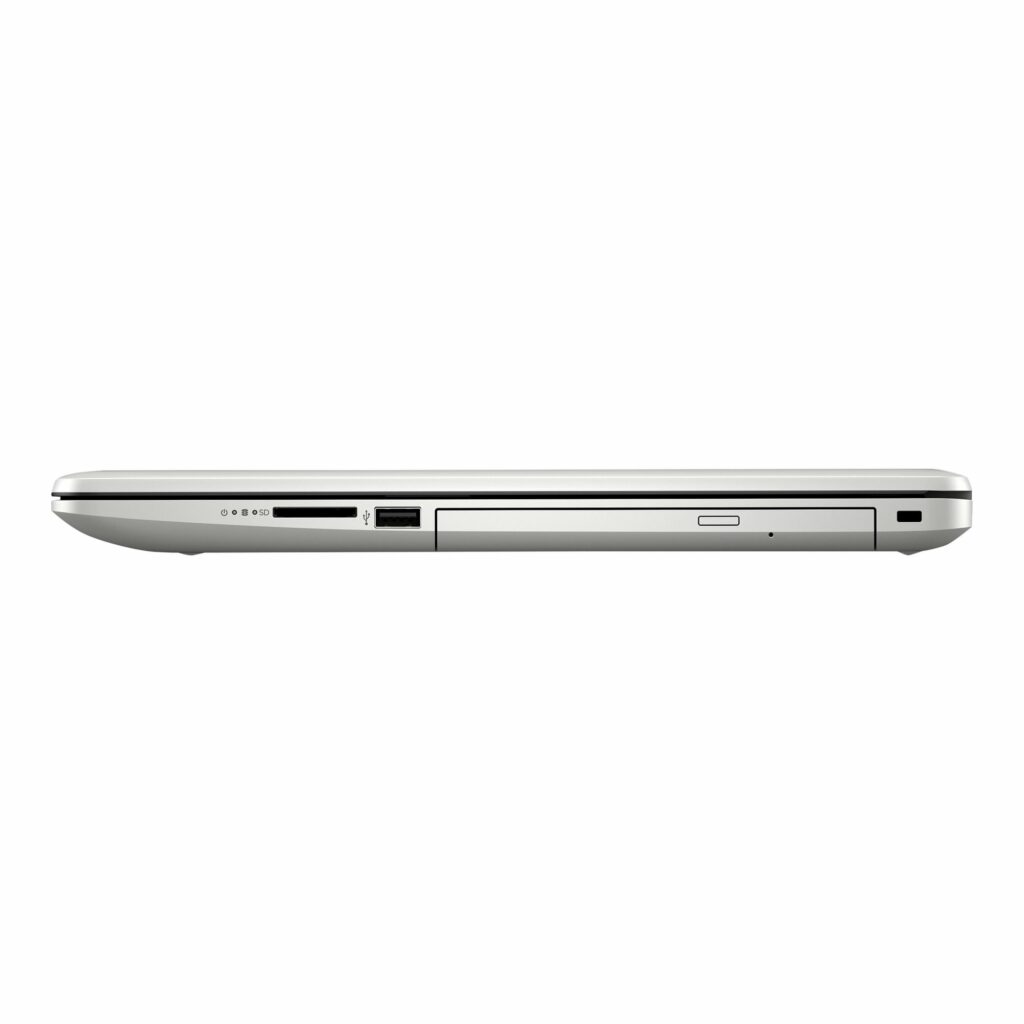 That's it for our list of the best laptops with a DVD player that you can buy in 2022. There aren't too many good options that are still relevant for modern-day use, so we had to keep it short.
However, there's something for everyone here as we've suggested both cheap and expensive laptops. Whether you need to work, play games, or just casually use a DVD player – our selection of laptops with DVD players will do the job perfectly.
So, go ahead and select your pick. But make sure to only buy the variations we've suggested because others might not include an optical drive.
Check also: